No Medical Life Insurance
No Medical Life Insurance
Finally, You can Get Up to $300,000 In 15 Minutes or Less.
Far more Canadians are wanting easy to get life insurance without a medical, lab samples, ECG, needles or other traditional underwriting requirements.
Several carriers have created very good options and this page aims to completely explain non medical life insurance and why it might be the right choice for you.
What is No Medical

Life Insurance?
The name says it all. No Medical Life Insurance is life insurance without all the usual delays and requirements.
No need to see a nurse or other tests such as:
Insurance can be put in place in 30–60 minutes with some carriers.
Eligibility, pricing and overall limits will depend on the carrier and questionnaire you complete online with one of our advisors.
An application takes only 10 – 15 minutes to complete.
Why Non-Medical

Life Insurance?
Not just for individuals with pre-existing health concerns. There are many reasons for using this solution:
Life Insurance for

Seniors Over 65
We have policy options so seniors over age 65 that can be customized as required.
As we pass certain milestones, it becomes more difficult to qualify for life insurance. Health issues that you have faced head on, add to your medical history report even if those issues are well managed.
Seniors over 65 may not need as much coverage as a young family but might like to ensure their spouse has a little extra to manage without them, leave an inheritance to loved ones or pay for final expenses.
A small funeral or cremation and an end of life celebration can be expensive. The people we leave behind will miss us and want to pay their respects and say goodbye.
Funeral insurance is just another name for permanent life insurance. The average funeral cost in Canada is $8,500.
You'll be well served to speak with an independent life insurance broker about funeral plans to ensure you get the best price and don't pay too much for a program specifically marketed as 'funeral insurance'.
Having an autoimmune disease can make the prospect of finding life insurance seem impossible but now insurers are getting more reliable data and have started opening up and covering more conditions.
Qualify for up to $50,000 with no medical exam and simplified questionnaire.
Fully underwritten coverage with higher coverage limits is available people with HIV.
Dangerous Sports

and Avocations
If you have recent history or future plans to participate in any of the following activities, then non med is the solution you're looking for:
Participating in these activities does not completely eliminate traditional insurance. However, it's most common for the underwriter to charge a rating (Extra premium) or offer coverage with an exclusion for your specific activity.
The process is much quicker and roughly the same price with a non-medical policy.
Foreign travel is always a factor in the traditional underwriting of life policies.
On a non-medical application, the questions are broader and more lenient on future travel plans. Questions are typically forward looking and may not include details for recent travel.
A sample non med question:
"Do you plan to travel outside North America, the Caribbean (excluding Haiti), the United Kingdom or the European Union countries for more than 12 consecutive weeks in the next 12 months?"
This is a typical yes or no question while a traditional underwriter might want all of your future travel plans in a detailed description.
Flying anything other than a commercial aircraft on a regularly scheduled route will likely result in a modified offer from a traditional underwriter. The most common underwriting approach would be to offer coverage with extra premiums (rating) or to cover everything but flying (exclusion).
Depending on the amount of protection required, a non medical policy is often a perfect solution for Canadian pilots.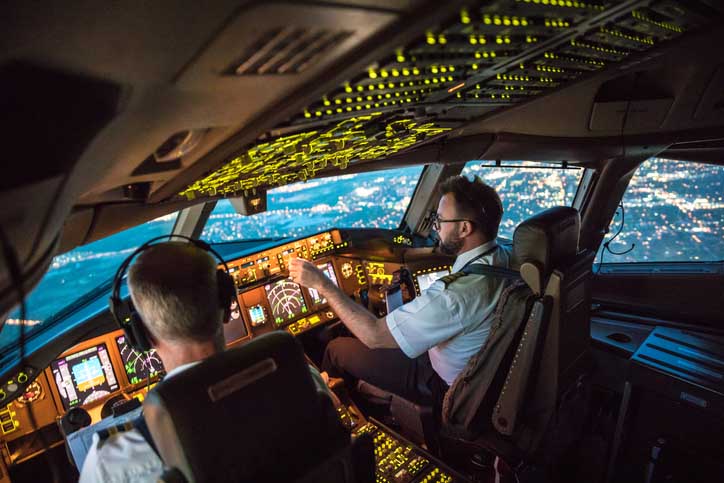 A colourful driving record can make it exceedingly difficult to qualify for a fully underwritten policy. As you can imagine, the underwriter may assume your menace to society and yourself.
*Note: If the infractions occurred more than 5 years ago, with no recent issues and otherwise healthy, many underwriters would consider you for a fully underwritten policy.
However, with no medical coverage your more likely to get the coverage you need in these situations:
Life Insurance with

a Criminal Record
A criminal record will likely push a fully underwritten policy out of reach. Guaranteed and simple issue will often be the primary way to get the protection.
Non-medical life is not just for people with compromised health. The amount of no medical coverage available is subject to different criteria:
*It's very important to use a broker to help guide you through this process before moving ahead with an application.
It is difficult to secure life insurance with a history of alcohol or drug abuse. Again, no medical insurance to the rescue.
The coverage you need will be exclusively simple issue for recent history of substance abuse.
Mental Nervous Disorders

Life Insurance
Mental nervous conditions are increasingly more common and can be detrimental to a traditional application.
This is a wide topic but even severe depression and bipolar disorder can be covered with a no medical policy.
Anxiety of

Life Insurance exams
This is a big one for many Canadians. The mere thought of a paramedical exam or a needle to draw blood samples can be overwhelming.
20% of the population has Trypanophobia (fear of needles). A No Medical Life Insurance policy in Canada does not require blood samples—No Needles! 😊
Not everyone is comfortable with a nurse coming into there homes. No medical policies are a great work around for getting your coverage.
Most suitable for those who have pre-existing conditions and cannot qualify for simple issue protection but still need permanent life insurance.
How much coverage can I get guaranteed?
The application is a 'knockout' style questionnaire. The more questions you can honestly answer "NO" will lower the cost per thousand and increase the amount you can get.
Qualify for up to:
Ideal for people with pre-existing medical conditions that are managed and those with personal history details that traditional underwriters would flag as undesirable risks.
A knockout questionnaire similar to the simple issue standard but a little more detailed and restrictive. Still quite accessible but the lower price and higher coverage limits require a few more questions.
Qualify for up to:
Perfect for people in good health that prefer not to go through traditional underwriting and invasive testing.
Height & Weight

Build Tables
Build is a major factor for most carriers—both simple issue and fully underwritten.
We have one simple issue carrier with no build question at all for coverage up to $300,000. Coverage over $300,000 will have a build table in the questionaire but simple issue tables are far more liberal than a standard policy through traditional underwriting.
Without a medical exam, the insurer is taking on more risk and the possibility of underlying conditions developing into mortality risks.
No Attending

Physician Statement (APS)
With traditional underwriting, a complicated medical history or borderline conditions will usually ensure the underwriter requests more information directly from your doctor. This report is called an "attending physicians' statement" or APS.
An APS is a full medical history report from your doctor including all visits, test results, medications, treatments, and recommendations.
Doctors are quite busy. These reports can take from 2–12 weeks depending on the doctor.
No Medical Life Insurance is literally the fast track for putting quality coverage in force as quickly and easily as possible.
Best No Medical

Life Insurance in Canada
The short list of top No Medical Life Insurance companies in Canada. Each has their own limitations and quirks and every scenario is different. Have an honest conversation with a broker to get the best advice.
How much

coverage do I need?
With No Medical Life Insurance there are limits to how much you can buy.
Sometimes you will not be able to get all the coverage you need with one carrier or the premiums might be too much for you budget.
First of all, brokers all get the same price for no medical insurance. The real question is whether the broker you work with has expertise in simple issue coverage and knows what each carrier has to offer.
Some carriers sell directly to the public at the same price as a broker, this option is not in your best interest. Going directly to the carrier means you get one option only and you're dealing with a call center agent that may not be around when you need their help in the future.
Using a broker ensures you get professional expertise and the carriers client service team bundled together with your policy. Same price with double the service and support.
It's not always a straightforward easy process when it comes down to finding adequate and affordable life insurance products, so do yourself a favour and let a broker do the comparisons and manage the applications.
We are here to help you buy at your convenience whether that's on a weekend, lunchbreak, or late in the evening after the kids or grandkids go to sleep. Not to mention you're supporting a small Canadian business instead of a massive corporation.
To start we need some basic information to begin our search:
How Do I Buy

My Insurance Online?
Online is fast becoming the only way to buy a no medical life insurance policy.
1: We'll start with a phone call to discuss the variables and get to know each other a bit.
2: Run the quotes and narrow the search to a couple options.
3: Plan a convenient time for the online application.
4: We send you a web link that you can click to see our broker portal & online application.
5: Complete the application questions and basic info together.
6: Sign the application through a secure email.
7: Receive the policy by email or paper mail – depending on the carrier and your preference.
Paper applications are still possible, and we can accommodate that process if you prefer?
Request a quote for No Medical Life Insurance by clicking

"Get Instant Quote"

at the bottom of this page.
Mention "No Medical Life Insurance" coverage in the notes section along with any other question or details and we'll be in touch with you right away.